Get a Beautiful Basement for Your Bloomingdale Home
Bloomingdale, Illinois, is a vibrant city in DuPage County known for its charming neighborhoods, friendly residents and exciting events. From the Bloomingdale Farmer's Market to the Blooming Fest, there's always something happening in this lively community. Whether you're craving a juicy burger or mouthwatering pizza, Bloomingdale has a dining spot to satisfy every taste bud, including Georgio's Chicago Pizzeria and Shane's Deli. Known for its picturesque parks and welcoming community, Bloomingdale offers a wonderful blend of natural beauty and small-town charm. This captivating city also boasts beautiful parks, nature trails and the Stratford Square Mall, providing ample outdoor recreation and shopping opportunities. With its rich history, lively events and delectable dining scene, Bloomingdale is a place that truly offers something for everyone.

Because of the city's beautiful and inviting atmosphere, the Bloomingdale housing market is flourishing. The city features a mix of established neighborhoods with well-maintained properties and newer developments with modern amenities. And homeowners in Bloomingdale are always maximizing space and increasing their property value. One way they do this is by investing in beautiful, functional basements. Fortunately, they can trust the nearby experts at Basement 2 Finish with their basement renovation and remodeling needs.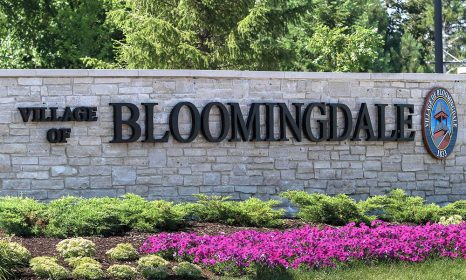 Increase Your Bloomingdale Home's Value with a Basement Remodel
Did you know that a finished or remodeled basement can increase your home's value by several thousand dollars? In addition, a basement renovation can maximize space, giving you extra bedrooms, bathrooms, fitness spaces, home offices and storage. Basement 2 Finish has provided these expert renovations and more for Chicagoland and surrounding communities since 2003. With more than two decades of experience, you know you can rely on our professional and friendly team for your basement renovation and remodeling needs. In addition to expert services and guaranteed customer satisfaction, we simplify the renovation process:
First, you fill out our free

estimate form

. Make sure to upload any blueprints or photos that will help us understand your vision!

Next, we send our professionals to look at and measure your space. They'll ask you questions to understand your ideas and ensure the renovation is as successful as possible. Then, we develop a 3D model to help you visualize our plan. We blend your preferences and needs with our expertise to create a functional and valuable 3D model.

Finally, we complete the renovations – and you enjoy your new, remodeled space!
Get Your Free Estimate for Your Basement Today
We've received hundreds of glowing reviews from our Chicagoland customers. Check out what folks near you say about their experience working with Basement 2 Finish! Then, get started today by completing our free estimate form. Our team will look at your needs and give you an estimate so that you know what to expect. For any questions, please contact us today.